Posted on 23. Aug, 2010 by Tommy Blom in Kalender, Nyheter

Ta det till nästa nivå. Ett seminarium för dig som redan har grunderna inom kettlebellträning (RKC).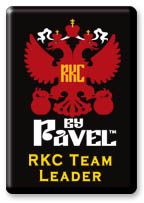 Träna med Tommy Blom, Sveriges enda RKC Team Leader

Alla kan träna med kettlebells och ha nytta av det!
Har du gått igenom Kettlebell – Basic? Då är det dags att bygga på dina kunskaper med fler lyft, lyft som gör att du kan ta din träning ett steg längre. För att deltaga på detta seminarium krävs att du har grundläggande kunskaper inom RKC Hardstyle och kan följande lyft; • Marklyft • Goblet Squat • Swing (1 och 2 händer) • Turkish get-up. Dessa lyft lärs ut under Kettlebells – Basic
Vi kommer att gå igenom följande lyft:
• Clean
• Press
• Push-press
• Snatch
• Repetitioner på tidigare lyft

Instruktör: Tommy Blom, RKC Team Leader
Datum: 2010-10-09
Tid: 15:00-18:00
Pris: 350 kr
Utrustning: Shorts, t-hirts, handduk (dushhandduk) och en vattenflaska.
OBS! Max 35 Deltagare/grupp
Plats: Tenacity Courage Corner, Fighter Centre, Viktoriagatan 19
Karta
Information & Anmälan:
Tommy Blom
info@tenacity.se
031-760 66 62
The RKC Team Leader
The position of RKC Team Leader is also by invitation only. The RKC Team Leader has displayed consistently strong teaching skills over a number of years and demonstrates a very high level of physical skill in their kettlebell practice. RKC Team Leaders teach on a limited basis at the RKC instructor certifications.
To make rapid gains in strength, power, flexibility and athletic performance seek out an RKC Team Leader in your area today! See a list of all RKC Team Leaders